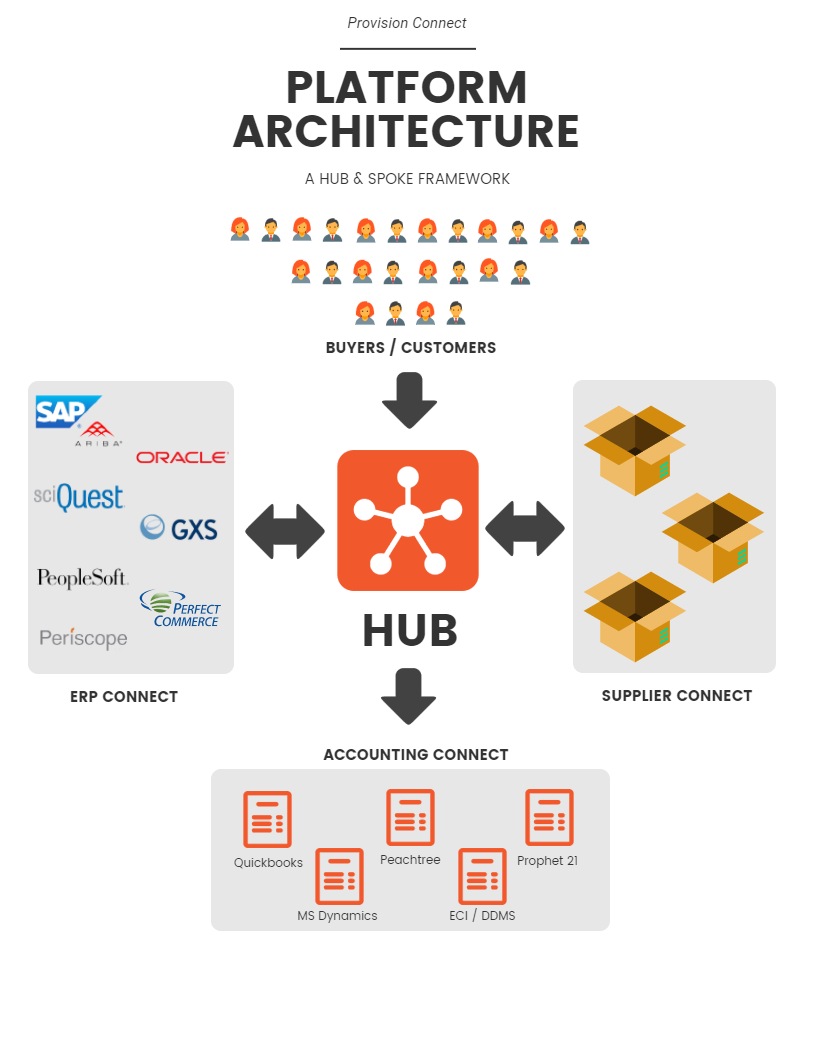 The Provision Connect Procurement HUB platform consists of a core purchasing hub module allowing clients to add any number of buyers and suppliers to the hub using a flexible but scalable cloud-based software hub and spoke architecture. Using Provision Connect's platform, clients are afforded an enterprise level procurement platform for a fraction of the cost of other vendors' offerings and a rollout schedule that is far shorter than anyone in the industry.
The Provision Connect Procurement HUB allows clients to:
Connect to any number of suppliers
Connect to any number of buyers
Connect buyers to suppliers electronically.
Connect transactions to your accounting software.

Provision Connect's core technologies have been developed and in production for over sixteen years, and over six years in the disadvantaged business sector. Working regularly with supplier e-commerce teams from companies like Grainger, VWR, Fisher Scientific, MSC, Graybar, Gemaire, Staples, Essendent, HD Supply, FW Webb, Tifco Industries, Turtle Electrical, Waxie, School Health, School Outfitters, Safeware, Global Industrial, and Ferguson and with outside technology vendors such as Ariba, Jaggaer (SciQuest), PeopleSoft, Oracle, GSX, Periscope, Perfect Commerce (Proactis), Unimarket, and Exostar, we've created an end-to-end e-procurement platform connecting thousands of buyers, suppliers and value added small businesses. We provide enterprise level connections that offer customers the ability to establish a procurement solution quickly and easily for any number of potential buyers needing a customized and robust platform to meet almost any purchasing goal.
For more information, please contact Us: 713-252-5160